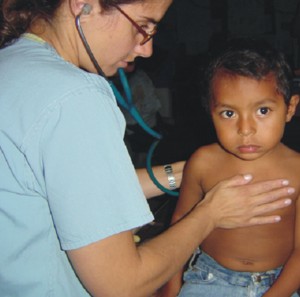 The Movimiento de Jóvenes ( Movement of the Youth ) takes part in informing young people in the matter of sexuality, thus making an important contribution to avoid premature pregnancy and sensitizing the families to the consequences of this phenomenon.
Medical preventive check-up and above all aspects of personal hygiene and the protection of the environment are guaranteed by "medical brigades".
More over the members of UCA SOPPEXCCA were informed about the consequences which the use of chemicals to health may have.
----
Various campaigns for early detection and prevention of cervical cancer were made.
For 2007 a further campaign to integrate 500 women into the programme of prevention is planned.
-----
The Movimiento de Jóvenes ( Movement of the Youth ) organizes campaigns to protect against venereal diseases and HIV.
SOPPEXCCA cooperates in the commission of children and adolescents, which is engaged in these topics at regional level.
In this context we have organized events to inform about HIV and to prevent the consumption of alcohol and drugs.
Together with the project "HOPE" SOPPEXCCA has established three sales points for medicine.
4. Reducing Maternal Mortality

5. Improving maternal health

6. Combat HIV/AIDS, Malaria and other Diseases
All Millennium Development Goals