SOPPEXCCA works with a concept of active integration and equalization in its member cooperatives, in communities and in its own administration.
40% of the members are women.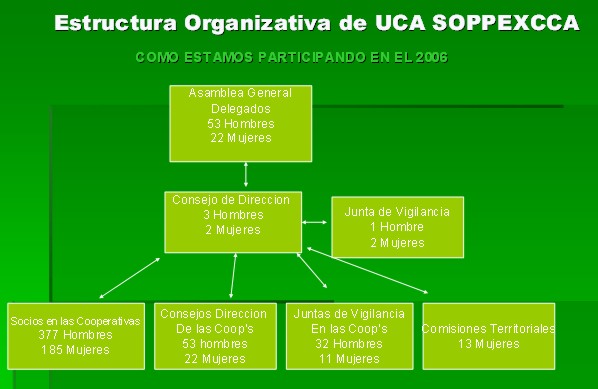 Our coffee "Las Hermanas", which is produced by the women organized in SOPPEXCCA is imported by Sustainable Harvest in the USA and sold by Peet's Coffee and MOTO Coffee on the US-american market.
The organization makes the politics of equal treatment of the sexes, which is accompanied by the active participation of the men and women co-workers. They were those who have worked out the proposals for the politics of the organization which were finally accepted by the plenary assembly of its members.
On the basis of our work of integration in UCA SOPPEXCCA we have also promoted the foundation of a union of the coffee planters as well as the association of Nicaraguan women as small coffee producers called Flores del Café (Flowers of Coffee).
These alliances are part of our obligation to make all women share our aims, experiences, events and the strategies of cooperation to improve the living conditions of our families, cooperatives, communities and our organization.
3. Equality of the Sexes and Independence of Woman
All Millennium Development Goals